My sister is a beauty junkie just like me. She tried out the St Ives Microdermabrasion scrub, here's what she thought;
I've been using St Ives Scrubs for... well forever but lately my skin hasn't been loving them so much, and the effect has been more scratched and abraded than fresh and dewy after. I'm 28 now and over the last couple of years I've noticed my skin getting less tolerant to harsher treatment and my skincare needs are leaning towards moisture and simplicity and generally being kind to my skin rather than using what basically amounts to paint stripper and sandpaper to keep it under control!
Luckily St Ives have launched a new range called "Elements" which includes a "microdermabrasion" scrub that aims to "reveal younger looking and refined skin". The scrub uses "micro-fine mineral crystals" (hydrated silica) which are a lot gentler than the apricot kernels in the regular range. Better still they are densely packed so,while the product feels really gentle on the skin, they really do exfoliate and give a nice even texture to the skin. After my skin looked smooth and fresh and felt squeaky clean, not red and sore.
I think I may even be slightly addicted to this as I've used it every night since I bought it, but it's so gentle my skin shows no sign of being irritated. It would be great before and after a fake tan too as it has such an even distribution of scrubby bits (yep, that is the technical term).
Definitely recommended for anyone who wants a good facial scrub, but doesn't necessarily want to look like they've been attacked with a scourer afterwards!
This retails for around £4 and can be found in the usual places!!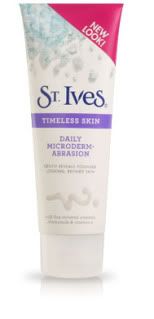 The picture may look slightly different to the bottle on drug store shelves!!
xoxo