Sarah from
Lumiere Cosmetics
sent me a cute little package all the way from America with some goodies in for me to try! I was gobsmacked at the shipping time, it was literally 2 days before it was waiting for me when I got home from work.
I
did't
use mineral make up before Lumiere, but I have always been interested to find out more, and this was my perfect opportunity!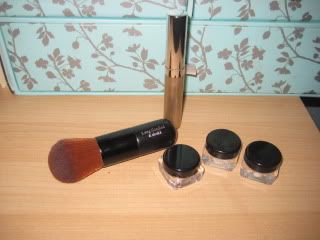 In the picture is-
A foundation sample-
My naive thoughts on mineral make up was that I
wouldn't
get enough coverage. How wrong I was. Just the tiniest amount managed to cover my whole face and even out my skin tone. I did however choose the wrong shade which was a bit of a bummer but would
defo
work in winter for me.
Sheer finishing powder-
I have seen a brand
with a
product similar to this and I was really keen to try it. On day one I put this all over my face, which was a mistake for me. Towards lunchtime, the minerals
hadn't
mixed well with my concealer and my
under eye
circles looked like they had major wrinkles. The next day, I used it in areas I thought needed a boost, basically the usual places you would highlight and I love the effect it has. I cant stop wearing it! It really lights up my face.
Eye pigment-
I love this colour. Its much more 'rounded' and offers a bigger spectrum of colour compared to standards shadows.
Lipgloss
-
This reminded me of a
dazzleglass
with the effect it gave, super shimmery to a point where my lips looked holographic. The gloss part
isn't
sticky and super shiny, the minerals do all the work!
Pressed pigment - (not pictured)
Comes with a mini applicator too! This is a lovely champagne type colour which looked great on my lower lashes and inner corner AND stayed all day long!
Long handle kabuki-
Sometimes my normal
kabukis
go flying out of my hand so this is perfect for extra control. The bristles feel just like the body shop ones.
My views on mineral make up have completely changed and I will definitely be reaching for this type of make up more often.
Check out
Lumiere's Skin & Beauty Bar
I love the thought of a beauty bar!! They also have a
myspace
page
here
If like me you've never tried
mineral
make up before, get to the beauty bar now and pick up some cheap samples, they deliver quicker than some companies based in the UK and with the £ working its way back up, its like getting a discount!
xoxo