I arranged a swap with the lovely Monika @
Rocaille
we discussed how much we should spend and what products we might like!
I got all of the below!! Monika had put some thought into the products that I would like and she got everything spot on!! There was also a little card which is so cute!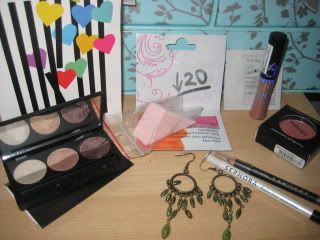 I have already tried some of the bits out! I couldn't wait. The lipgloss is by Astor and reminds me of L'oreal's glam shines but this is lot smoother than those. The colour is nicely pigmented but not too over powering, a good balance. It also has a brush applicator which is a nice change from most of my glosses. The Inglot blush is a gorgeous coral colour and has lasted all day. The packaging reminds me of MAC. Monika also got me a palette from Inglot with 3 colours that are perfect for me and I will be including this set on my travels!! Sadly one of the shadows didn't make the journey but I'm hoping to fix that!
She also got me some earrings which are a lovely green colour which really suits my hair and eye colour and I cant wait to wear!
Thank you Monika! I cant wait for you to receive my package!
If you don't already follow Monika, you should!! Check her out
here
.
xoxo