Hairspray is a product I don't use much. I prefer a more natural look and if I style my hair, I'm lucky enough for it to stay in place. The only time I really need to use it is when I curl/wave my hair. If I do style my hair, I like it to stay all day and not have completely dropped out by the end of the day. I also don't really want to stink of that recognisable smell!!
So when this was in my goodie bag from Garnier (yes I'm still working my way through) I thought I'd give it a go.
I love having time to get ready at the weekends, it means I can put my extensions in and style them which is more than I do on a weekday!
On Saturday I was off to a BBQ so before I (finally) left the house, I spritzed this baby and ran out the door. It didn't smell like hairspray at all, infact it smelt quite fresh! This had to put up a good fight, hot weather,
BBQ
fumes, gladiator dual and alcohol and I was surprised that it lasted all night and it didn't make my hard go hard! Yay! I also brushed it out when I got home to test if it flaked off in white bits and it didn't.
If it can last all this, it can last a stuffy tube journey to work!
So a mega hold spray, that doesn't smell, doesn't go hard
and
lasts!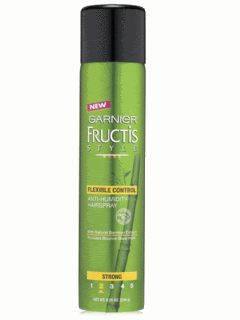 xoxo