As you know i was lucky enough to attend the Garnier event. In the huge goodie bag was the full Pure Active range which is their new spot fighting range.
The week before the event i had been using Korres primer which completely broke me out. The only time i have ever broken out before was using one of the maybelline foundations which i don't think the sell anymore. My face was really sore and i didn't expect that from a product that was a) expensive compared to other primers that work better and b) an organic product!! So when i started my 7 day Pure Active trial...it had a tough job to do! I thought i would review all the products in one post.
Blackhead Clearing Scrub-
Love this!! I have tried soooo many scrubs and many of them fail to exfoliate AND clean and leave my skin feeling refreshed. This is possibly the best scrub i have used and its rival for me is the St Ives scrub which i swear by. This set up my skin perfectly for a good moisturising session! My nose area is prone to black heads which have actually become less visible...nothing has done this before!!
Deep Pore Unclogging Wash-
I don't really have a lot to say about this, its a face wash that doesn't really stick out for me. I have opted for the scrub more, when my skin is clearer, ill probably use this more.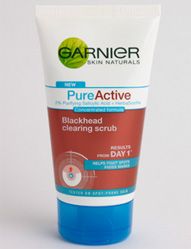 Spot Purifying Toner-
I like this. I like how it dries out my spots without drying our my skin and stripping its natural oils off. It isn't as harsh as the Clinique which i like.
Spot-on Roll-on Rapid Soothing Relief-
When i first saw this, my thoughts were...a roller ball applicator?! Surely thats a recipe for disaster?! I have been applying this with a clean finger until i was advised the roller ball pops off which is perfect for a cotton bud application! This actually works! I have been using Boo Boo Zap by Benefit for about a year, this is like that but supercharged! I think this is the best spot treatment out of the whole range.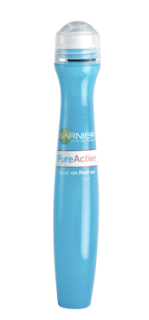 Spot Fighting 24hr Moisturiser-
The firt time i used this i didnt like it. It is perfect for oily skin as it mattyfies (that so isnt a word, or spelt correctly if it is...) but for me, i like my moisturiser to give my dry skin a healthy glow. After 2 days, my skin was really dull and i looked ill so i switched to the Pure A daily Treatment Moisturiser which is sooo much better for my skin and the results i want. I liked the clean feel it gave my skin, but unfortunately this just isn't for me :(
Overall-
The packaging makes me think the range is aimed at teenagers and doesnt look great compared to my hot pink hair products but id have everything pink if i could!! I am impressed with this range as my skin has (nearly) cleared up. The usual stuff all went within about 5 days but the breakout is under control and this has kicked its sweet little ass!!
My favs are the scrub, spot 'roll on' and toner. The face wash and moisturiser i can use or leave. I'm thinking about buying another spot roll on for my work drawer...you never know!!
Finally a spot fighting range that actually works!
Loving Garnier at the mo. Next week i'll be trialling the summer face and summer body...keep those peepers peeled!!
Has anyone else used his range?
xoxo