Next weekend the girls are off on a road trip. Not along Route 66 but just to a town for a night out, stay in a hotel and a hungover day of shopping and travelling back singing at the top of our voices to the best of the 90's! I love packing so i started thinking about what i would take today.
First up toiletries-
I kept reminding myself that i will be going for 1 night and wouldn't need to wash my hair.(i did have huge bottles of shampoo, conditioner, heat protector, serum..) I need to pack shower gel too!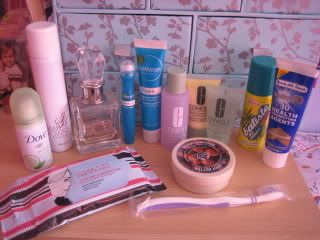 Make up-
I packed, then repacked, then repacked again. Then took this pic...
Then packed again and got it down to this little lot!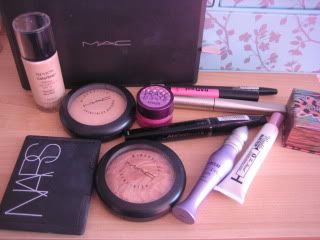 We are going out in fancy dress so my make up is pretty much planned already! I also wanted to pack light but be able to work a few different looks out of what i take in case there is a sudden change of weather, or a freak accident where i need to have enough make up for hundreds of people to use! lol. I like to always have an overnight bag ready in case i need it and it mainly consists of sample/travel sizes that have been gift with purchases.
If i can last just ONE night without my whole collection, I may just about make it through the weekend!
xoxo