I first heard about it when Boots emailed me.
The blurb-
Cargo LashActivator
, the cult product that's causing a stir across the globe has now landed in Boots.com. Exclusive to Boots and Boots.com,
Cargo LashActivator
gives your lashes a nourishing boost that can help to visibly increase the appearance of natural lash length and fullness
Cargo founder Hana Zalzal observes "As we looked to develop a new product innovation in the eye make-up category we realised that there was a gap and that there were really only two ways of dramatically enhancing lashes – a great mascara and false eyelashes so we developed Cargo's new
LashActivator
, a unique tinted treatment mascara that cares, protects and enhances lashes to extreme lengths all rolled into one!"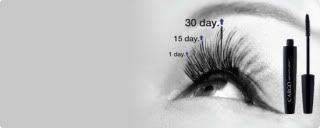 Has anyone tried this? If this works, it will be a cheaper alternative to lilash! woo!
xoxo