About 20(ish) beauty bloggers were invited to Loreal HQ in London to talk about Garniers new Pure Active range.
Before today, Garnier isn't really a brand I would actively buy. My original views were that it was a range that was over priced and not aimed at me... how wrong I was! I am really glad my eyes have been opened to a range that is so vast, affordable and so well thought out. In a world where 'organic' is such a major selling point, Garnier's view is 'why stick ingredients in just so it smells nice' they concentrate on picking natural ingredients that work and using them to their best ability!(eg. blueberry, apricot, bamboo) Until they touched on their ranges, I had completely been oblivious to how many ranges I had looked past and not tried.
Their new range Pure Active is aimed at 13-35(if i remember rightly). A huge ingredient in the rang is Salicylic Acid which in this rang is 2%. Salicylic Acid is an anti bacterial. This is a big ingredient in the US but not really touched on in the UK so its great that someone has stepped up the game when it comes to spots and blemishes! Maybe flawless skin isn't such a chore anymore! I was also impressed with the prices as they are very affordable. I am going to be ditching my usual products and using this range for 7 days and will report back on my progress. I have my fingers crossed that I have found a range that is cheap and works!
After a presentation about the products we were let loose to check out the products in lots of the ranges and talk to the staff about them. We were encouraged to take products we wanted to try and I cant wait to give them a go. I think the event really gave us an understanding of the brand and how much time goes into each product right from the idea of the range to picking the key ingredients and developing the products. When we pick the final product up in the shop, i think we forget this! We were definitely well looked after right from the huge spread of food to the goodie bags. I don't think anyone left without struggling to carry their bags FULL of products! I think we are all very thankful for that! I had a really nice night and it was lovely to meet some of the bloggers although there wasn't too much time to chat! There will be lots of reviews coming over the next couple of weeks but its going to take a while to try everything!
A huge thank you to Garnier and Headstream PR who did a great job and made me feel very welcome! I cant wait to report back on the products!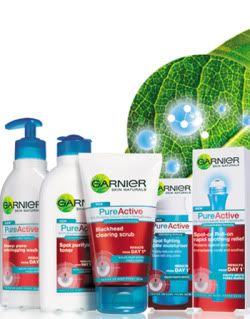 xoxo