So in a previous
post
i mentioned I would be trying out different eyebrow products. Over the past month I have tried a range of products to tame, groom and fill in my eyebrows.
All the products below are exempt from project 10 pan as I didn't have anything like them before!
In the early stages of the brow growing I decided to get a product I could use to fill them in while they(slowly) grew. I searched high and low for a colour that was natural for me and closely matched my eyebrows. My brows are not the same colour as my hair, they are slightly dark grey...sounds weird i know! It has taken me forever to find a good color match and a pencil that is blendable and doesn't make me look like i have really made up brows! I finally found Benefits 'instant brow pencil' in light to medium. When I swatched it and tried it on my brows I felt like a group of angels had crowded around me singing hallelujah!! It did come with a £12.50 price tag but I didn't mind spending a bit more than drugstore prices for a decent colour match!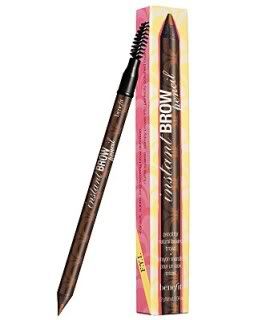 The first grooming product i used was Tweezerman's Brow Mousse. I love this stuff! Its not too wet, dries clear and stays the whole day! I have nothing negative to say about this at all! I think it retails at around £10 ish mark which again is a bit pricey which is why I went in search of a cheaper version.
I stumbled across Barry M's clear mascara/eyebrow definer. For £3 ish(i think) i was hoping it would be a dupe for the tweezerman one. Here comes the negativity.... first I had to wait 3 weeks for the delivery which never arrived...cue 3 unanswered emails and 2 non returned phone calls. I finally get a call back and I am told it will be resent. Personally I don't think it was sent in the first place, I've always has the same postwoman for about 12 years and she always delivers...unlike Barry M! So I finally got my delivery and I cant believe Barry M have put their name on this product. The first thing I noticed was the smell...it says fragrance free but it smells worse than any mascara I have used before. The bristles on the brush are so hard it scratches. It probably wouldn't hurt so much if there was actually some product on the brush once it has gone past the stopper. I really have nothing good to say about this product and I feel completely let down. I thought I would love this product as much as the rest of the Barry M range but for me...this will be filed...in the bin!

xoxo