This morning I had my dentist check up and clean. I hate the dentist and I told myself 6 months ago to grow up and go to the dentist twice a year to prevent me from having no teeth left at 30! So today I saw my hygienist and dentist. All went ok, but if you have a fear of the dentist and a sensitive gag reflex...the 2 don't really go together!! I had to have a sealant on one of my teeth too to prevent something turning into a filling? Anyway, I let him do it seen as there was no drilling involved!! After wards I went to get my eyebrows done (which I have been growing for nearly 5 months) so when I arrived home to find a brown box on my doorstep I got over excited!! My Secret Summer Swap had arrived. I was ripping it open before I was through the door! I must say I am very impressed with my swap!! I even had a poem note in there...I was going to type it out but I'm not sure if my secret Santa would prefer me to keep it private, but i loved it!!
So onto the goodies...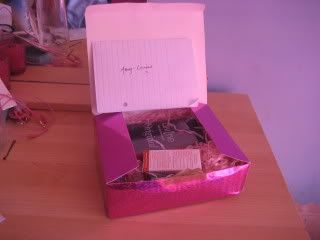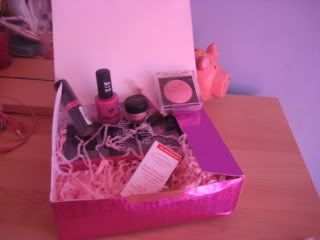 There is a definite pink theme going on....oh how you know me so well!!
Thanks Secret Santa, you really made my day :) cant wait to try everything out!!
xoxo