How can something so simple go so wrong?! Eyebrows are, in my opinion, the most important facial feature. The frame your face and eyes and set your whole 'look'. Over the years I have tried some different 'shapes' mainly due to experimental teen years and not knowing what to do! I hate to say it but I even shaved mine to start with age 13! I must have looked awful and luckily no pictures have materialised...yet! I would over pluck in the wrong places and generally not have a clue what i was doing! I also tried copying other peoples eyebrow shapes even when they didn't suit my face. Oh those were the days!! Since I was about 17/18 I have been getting my eyebrows done 'professionally'. I've always seen the same beautician every 4 weeks or so depending on growth. Eventually due to continued waxing and shaping and always wanting a smooth line, they started getting thinner and 'tadpole' like and I decided they needed to grow. So, since January I have been growing them and just getting parts of my eyebrows shaped, mainly leaving the inner corner to grow. I started off with 3 tiny hairs and now they are finally taking shape 5 months later! The other day when I was looking in my rear view mirror (looking at my make up not seeing if there was any danger behind me!) I realised how much more complete my face looks now I have fuller and thicker eyebrows. This made me realise how different someone can look just by over plucking or waxing.
I have added some pictures, I think some may have been photo shopped but this is how I found them...
I think you'll all agree that both Keira and Gwen look better with fuller brows. All the catwalk models you see have full brows and they make a point of grooming them in a certain way.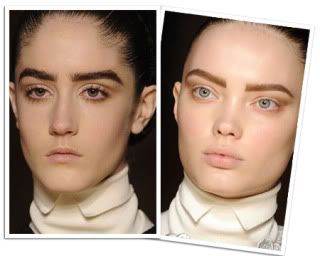 These brows aren't necessarily suited to the models but statement brows are all over the catwalk.
Girls, I urge you to grow those brows for a few weeks and nip down to your local salon to get them shaped! You don't need to have them done at an expense every few weeks but if you get your shape to start with, you can pluck them from there on out yourselves.
The best tweezers I have come across over the years are Tweezermans. The come in a huge range of colours and shapes to suit your needs and I cant fault them. They even offer you free sharpening! I myself opt for waxing and will be trialling threading soon.
I am going to be testing and reviewing some eyebrow products over the next few weeks and will report back on my progress. If anyone has any products they would like reviewed in particular, please let me know.
Love your brows and stop overpucking today!
xoxo
ps. An example of perfectly framing brows....go carmen!!