So, yesterday I went for a shopping trip to London. We normally drive but decided to make use of our oyster cards and get the train. In Bond Street station i walked past Superdrug, its only a small one but thought i'd have a look inside. I rushed to the make up section and scoured the shelves for GOSH. I spotted the lipsticks...knowing number 134 is the one im looking for....a choir of angels then surrounded me and sang hallelujah as my eyes nearly popped out of my head and saw that they have one in stock!! I grabbed it quicker than the speed of light! Next off to Selfridges which is probably my fav shop in London. I spent most of my time looking for a new bag and was really upset to walk out empty handed. Anyway, i made my way round the store, since my last visit about a month ago, they've also taken the reese's stand out! What is wrong with the world?!! So to the mac counter it was....it was packed so decided id go to the pro shop instead. Ive been waiting for the new 'coralista' blush from benefit to come out for about 2 months now and i knew it was the launch yesterday and they had a special salsa event. I went and sampled it and to be honest i was disappointed. I have most of the box powders and was expecting to love this but its just too shimmery for me. I felt like i was covered in glitter, but i think for a summer evening look it would look nice and fresh, im yet to be totally convinced. I made my way down oxford street. I needed a new body butter so next stop was The Bodyshop. They had some flavours in a 50% sale so my usual strawberry body butter was substituted for pomegrante. For £6.25 it was a bargain!! House of fraser next for Urban Decay primer potion and twice baked. I was speaking to one of the girls on the stand and she had swatches of eyeliners on her hand. I cant remember the name of them now but she had a whole range of colours on. They are liquid for the first 5 mins so you can blend etc then after that they stay put. She even let me try and scrub them off but they wouldnt budge. I think i'll got back for them! On the way out my friend got stuck on a free make over from a new company calle New Kind Cosmetics. They said they were a new brand and were going to be bigger than MAC...big talk! I was really impressed by the products. They had Grazia magazine where they had rated bronzers, they had come out number 1 over bobbi brown and mac. Maybe one to look out for? We made our down oxford street, obviously stopping at Topshop!! Next was the Mac Pro Store which was so so busy, but i managed to buy 3 eyeshadows (carbon, black tied & scene) 2 brushes (224 &239) but decided to finish there when i got so fed up of trying to get past people! I think i'll have to go in during the week. I also stopped in benefit for a hard angle brush as it was highly recommended to me! Next off to Sallys in shaftesbury ave for chi tongs which are being sold at a bargain price....none to be found! The shop assistant said he hadnt heard of them!! Looks like i'll be going to a different sallys to try and find them. They had babyliss ones which had a nice big barrell but i dont really have much faith in babyliss products. I dont think they get hot enough to be able to hold a curl all day! As it was getting really dark and the shops were closing, we decided to head to On Anon for champagne cocktails!! What? they were only £4 each which ws cheaper than the wine!!
Ive included a pic below of my purchases, the paws in the corner are my dogs, she really wouldnt move out of the way!!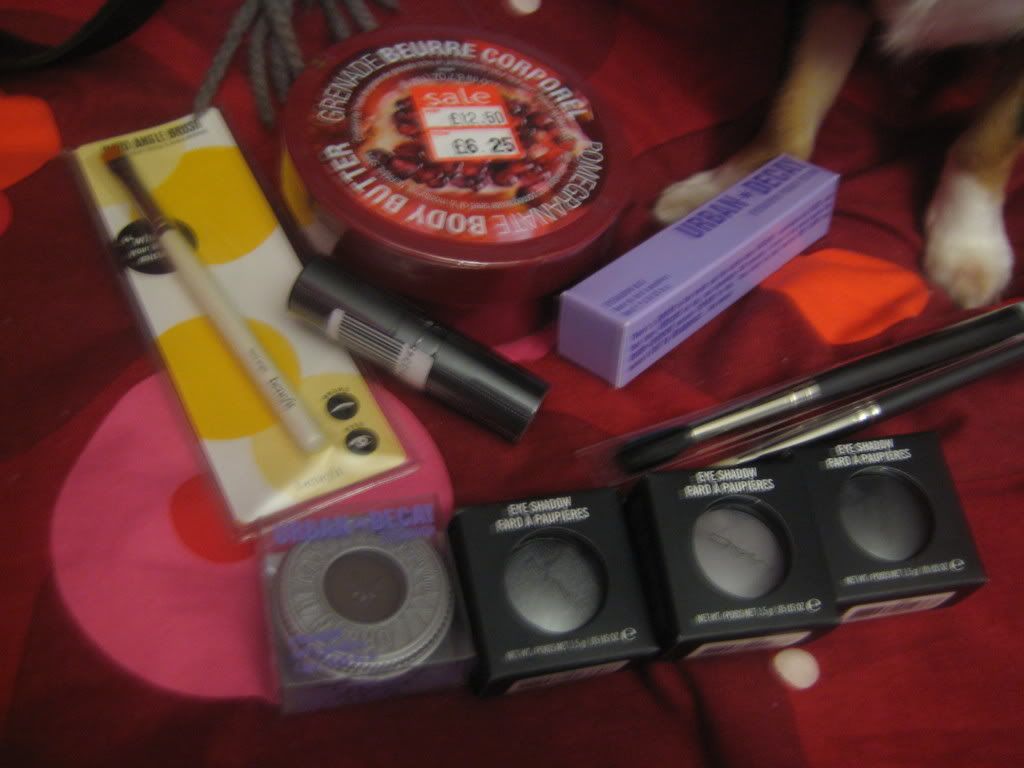 Hope you all had a good weekend.
♥ lipgloss86
xoxo